NOTE: this is a post that first appeared at the Rayshobby Blog. We are re-posting it here (with a couple of updates) to emphasize that OpenSprinkler is not only made in the USA, but made locally (at the Pioneer Valley region in Massachusetts) to support our local business. Hope you like it!
Since March this year, orders of OpenSprinkler have been increasing rapidly. Within a couple of weeks, we've done two batches of OpenSprinkler 2.3 at our local manufacturer — Worthington Assembly Inc. (WAi). Previously I have blogged about OSPi manufactured at WAi, and I've shown videos of their SMT surface mount manufacturing pipeline, including pick and place machine and reflow oven. This time, I was able to get two great videos of the selective soldering machine, which is used for through-hole soldering. Check the video here:
Below are some snapshots. First, before soldering, the boards are queued, and all through-hole components are hand inserted to the board,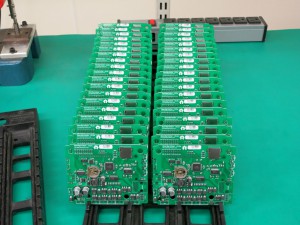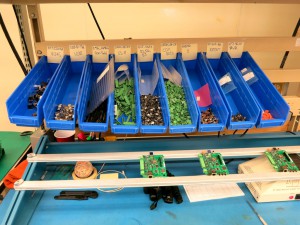 Next, each board goes through a pre-heating machine to get pre-heated, and then sent to the selective soldering machine. The selective soldering includes a fluxing phase, and soldering phase. Check the video above for details.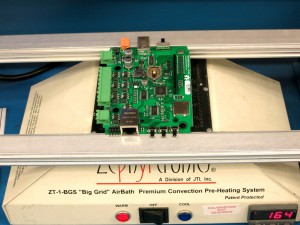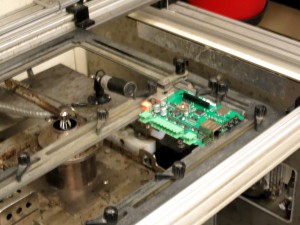 This is the result of the selective soldering. Looks very nice, and much better than hand soldering!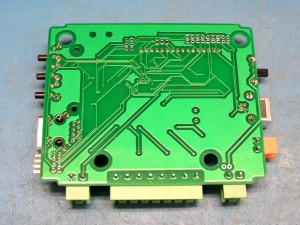 One of the main benefits of manufacturing locally is the convenience and excellent turn-around time: every order we placed at WAi has been completed within 2-3 weeks, sometimes within 10 days, which is amazing. Also, if there is any technical issue with an order, we can drop by the factory and get the problem solved right away. You certainly get better pricing with Chinese manufacturers — we've done that in the past. But the frequent delay there causes a lot of mental stress, and technical issues often take days to resolve. So over time we've learned that the convenience and fast turn-around time with local manufacturer are well worth the added cost.
(Update) We've started shipping OpenSprinkler 2.3 since early this year. Compared to the previous version (2.0 to 2.2), the biggest change in 2.3 is that the microcontroller has been upgraded from ATmega644 to ATmega1284, which has twice as much flash memory space, and four time main memory. This provides plenty of flexibility in terms of firmware upgrades in the future. The most recent batch (made in October 2015) also added an AC current sensing circuit, composed of a current sensing resistor and precision rectifier based on op-amp. This allows OpenSprinkler to sense the amount of current flowing through sprinkler solenoids. At normal operating condition, each solenoid draws about 150 to 300mA AC current. Having the current sensing circuit makes it easy to verify how well the solenoids are functioning electrically, and detect early signs of solenoid failure.