Description
OpenSprinkler is an open-source, web-based smart sprinkler controller for lawn and plant watering, drip irrigation, farm irrigation, hydroponics etc. OpenSprinkler is accessible through any modern browser or via our free mobile app available for most mobile platforms. The current version is OS 3.0, with built-in WiFi and OLED display. You can choose between AC-powered or DC-powered version. Take a look at this Getting Started Guide for details of this version, and FAQs for common questions. Among the new features, 3.0 supports built-in WiFi, Over-the-Air (OTA) firmware update, and 2 independent sensors.
If you prefer wired Ethernet port and do not want built-in WiFi, choose version 2.3 (with acrylic enclosure, a lead time of 1~2 weeks may apply depending on stock).
AC-powered OpenSprinkler requires a 24VAC sprinkler transformer (NOT included by default but can be purchased as add-on). It is designed to work with 24VAC valves only.
DC-powered OpenSprinkler uses a 7.5VDC low-voltage power adapter, included in the package. It is designed to work with both 24VAC solenoid valves as well as DC non-latching (e.g. 12VDC) solenoid valves or fish-tank pumps. The power options are flexible: you can power it with any DC adapter that outputs voltage between 5VDC to 12VDC, or use solar panel (12VDC). For details about how DC-powered controller works, please refer to this blog post.
Features:
Intuitive User Interface — no more messing with buttons and knobs, no more running to your garage to make a single change to your sprinkler programs. Instead, use web browsers and our free mobile apps to access OpenSprinkler from anywhere, whether you are at home, at office, or away traveling.
Smart Control — our weather algorithm automatically adjusts your sprinkler run times using real-time weather data. It not only stops watering when it rains, but also adjusts the water time on a continuous scale based on your local weather conditions.
Expandable — 8 zones on the main controller; expandable to 72 zones with OpenSprinkler expansion boards. Have more than 72 zones? Our app can manage multiple OpenSprinkler systems for limitless expansion.
Compatibility — OpenSprinkler is a drop-in replacement of conventional sprinkler controllers. It supports master zone / pump start relay, rain sensor, flow sensor, program start switch, and has buttons and an LCD for manual control on the controller.
Advanced Features — OpenSprinkler supports advanced features that you rarely find on other competitor products, such as support for remote stations, radio frequency (RF) stations, flow sensor, dual master stations, repeating program start times, multi-language support.
Open-Source — OpenSprinkler is built on open-source software and hardware. Its design files are publicly available on Github. Our mission is to educate and to leverage community wisdom to help make the best sprinkler controller. If you have technical skills, you can extend its capability in any way you need.
Documents:
Package Includes:
One OpenSprinkler (AC or DC) controller
Quick Starter Guide
For DC-powered controller: 7.5VDC universal power adapter (input 100~240V)
If you must use wired Ethernet connection, choose OpenSprinkler version 2.3, or alternatively, use OpenSprinkler 3.0 with a travel router that supports Access Point (AP) mode, which serves as a seamless interface between wired Ethernet and WiFi).
AC-powered Controller Valve Compatibility: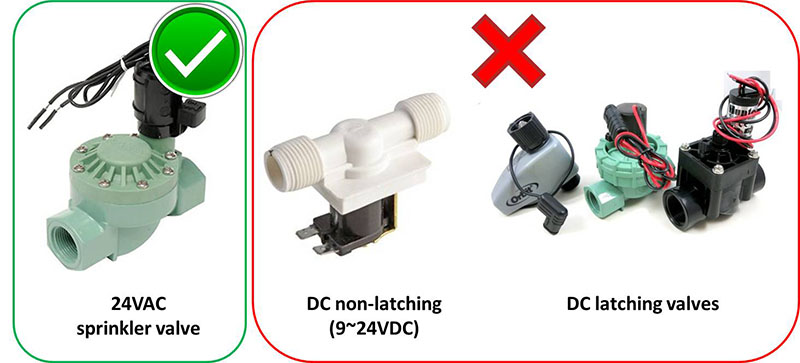 DC-powered Controller Valve Compatibility: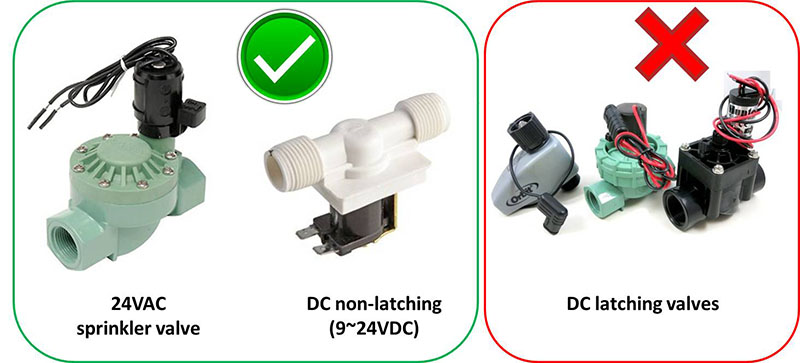 Other Links: